Submitted by Thomas Estilow on
Did you know that 80% of all iPhone failures are due to accidents? The problem is that most mobile carriers will not cover a smartphone like the Apple iPhone under typical insurance contracts.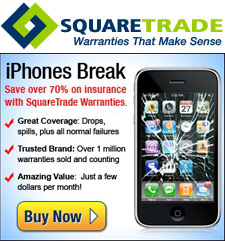 SquareTrade, a licensed insurance provider, offers the only iPhone protection that fully covers accidents from handling. The company has been in business since 1999 and has sold over one million iPhone warranties.
According to SquareTrade, "drops, spills, water damage, battery failures or any other failures from normal use or accidental damage" are all covered under their plans. This is the key difference between SquareTrade's insurance and other coverage options such as AppleCare.
Don't Drop That iPhone
Your iPhone comes with 90 days of technical support and a one year warranty from Apple, and many users have extended this coverage to two years with AppleCare. Unfortunately, if your iPhone is dropped and damaged or accidentally gets wet, Apple will not cover the repair.