Submitted by Bob Bhatnagar on
More leaked images of the next iPhone? Whether these are real or not, they certainly add more fuel to the blaze of speculation preceding WWDC this coming Monday. If these accurately represent the next iPhone model, Apple has quite a few tricks up its sleeve.

The first image is an enhanced excerpt from the photo below. What we see is two seperate holes above the display screen of the iPhone. Could one be a speaker and the other a front-facing camera?
The second photo shows a redesign of the bezel in black, matching the China Ontrade parts supplier images we've previously seen, as well as a matte finish back with shiny lettering. The chrome ring around the iPhone camera is present, while in other photos of the matte iPhone back the silver ring was missing. Were the older pictures of unfinished prototypes?
More importantly, for the first time we are seeing photographic evidence that Apple may have moved the headphone jack to the bottom of the device. This would make dropping the iPhone in your pocket after using the device more intuitive when using headphones. There is also a new button on the lower right edge of the iPhone 3.0, next to the dock icons.
There also appears to be text to the left of the battery icon. This matches the Hong Kong spy photos we've seen showing battery percentage remaining next to the battery icon.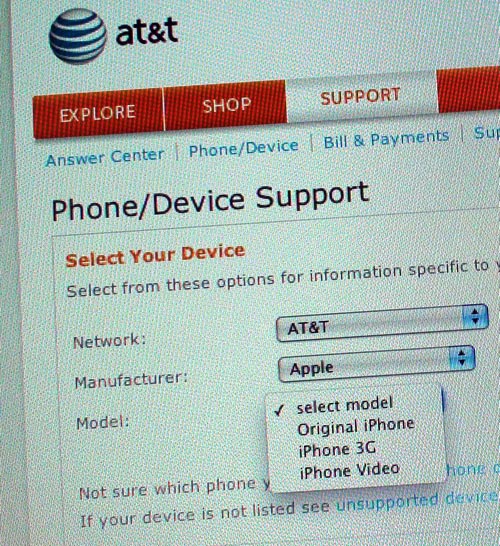 Last but not least, what is purported to be a leaked screenshot of an unpublished AT&T website calling the next generation iPhone the iPhone Video. This does look like the AT&T support website as it appears in Safari on Mac OS.
These images could be real, or they could be elaborate hoaxes. The truth is out there.