Submitted by Marshall Walker on
When it comes to battery life, Apple's official iPhone 4S specs are a little bit dodgy. According to Apple, the iPhone 4S has one-hour of extra 3G talk time than its predecessor, but the same battery life as the iPhone 4 when it comes to basically every other feature. iLounge decided to investigate how the iPhone 4S improves upon the iPhone 4 in some categories, and how it falls short in others. The tech site put the devices through an extensive battery test and discovered the iPhone 4 actually has a slight edge over the 4S when it comes to battery usage.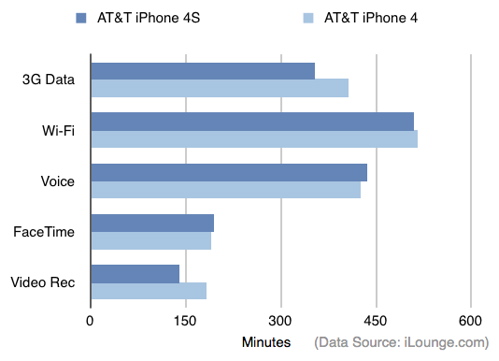 In a 3G Data test the iPhone 4S failed to outlast the iPhone 4 in Audio Playback, Video Playback, and Video Recording. The iPhones were pretty even for FaceTime and Wi-Fi with the iPhone 4S clocking in slightly better for Cellular Calls. The chart above shows some of the comparisons for AT&T.