Submitted by Bob Bhatnagar on
Looking for a better way to mute your iPhone? Typically the device can be silenced or put into vibrate mode with one switch. Maybe like some iPhone owners your ring/silent switch is broken. We've featured ways to get around this problem in the past, but now there's a simple, elegant solution for those with jailbroken devices.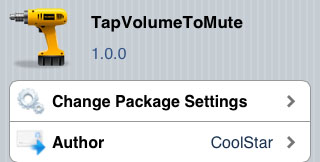 This simple alternative to silence the device ringer or headphone volume is a tweak in Cydia called TapVolumeToMute. After the tweak is installed, there are two steps to mute the iPhone or bring the volume back to its previous level.