Submitted by Anders Batten on
We knew this was coming ever since Google acquired the Yelp of traffic apps, Waze, a few months ago. Google Maps users will now receive real time accident, construction and road closure reports from the Waze community, and Waze users will soon have access to Google Search and Street View.
Waze is a traffic and navigation service with over 50 million members. The Waze community uses its mobile app to keep each other informed about current traffic jams and road conditions.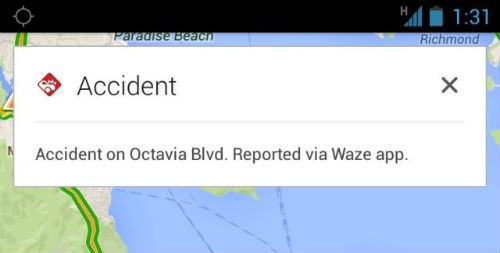 "No one likes getting stuck in traffic," Google explained on its Maps blog. "That's why the Waze and Google Maps teams are working together to harness the power of Google technology and the passion of the Waze community to make it easier to navigate your daily life."