Submitted by Bob Bhatnagar on
As any Black Sabbath fan knows, some of the band's earliest releases have stood the test of time. Finally, the first eight Black Sabbath albums spanning from 1970-1978 are available on the iTunes store. The albums have been mastered for iTunes, with Apple getting an exclusive distribution agreement for a limited time.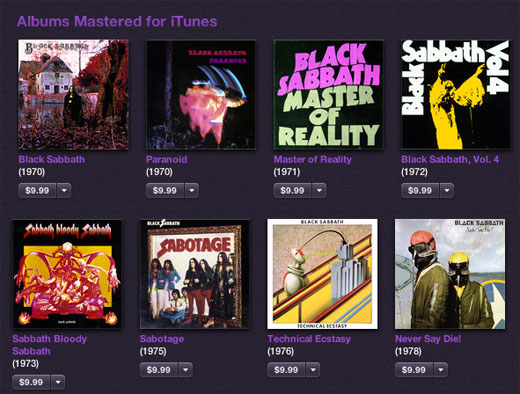 The albums, which run $9.99 include the self-titled Black Sabbath, Paranoid, Master of Reality, Black Sabbath Vol. 4, Sabbath Bloody Sabbath, Sabotage, Technical Ecstasy, and Never Say Die! as well as related compilations. For those who already own the albums on LP or cassette, here's your chance to pay for them again on the latest recording medium.