Submitted by Pete Sofflaw on
In celebration of E.T.'s 30th anniversary, Universal Pictures and Chillingo Ltd have released a brand new iOS game called The Green Planet. The app is basically a farming sim game where users must help E.T. save his dying planet by planting gardens and breeding new plants. Of course this means there is a lot of waiting around for things to grow and in-app purchases to buy cooler plants and decorations. However, the game looks amazing on the iPhone and is pretty addictive if you enjoy sim-type games. E.T. The Green Planet is free to download for both the iPhone and iPad via the App Store.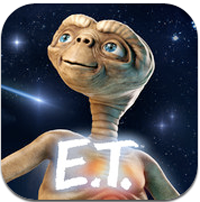 Universal also released an Anniversary Edition Combo Pack of E.T. The Extra-Terrestrial a few days ago. There was also supposed to be an Amazon exclusive E.T. Spaceship w/ BD Combo Pack available, but it hasn't materialized yet. Check out the trailers for E.T. The Green Planet and the Anniversary Blu-ray combo pack below.