Submitted by Marshall Walker on
The popular Super Stickman Golf 2 is free for a limited time on the Apple App Store. The game is a golf physics title where you must complete various courses to gain experience and upgrade your golfer to advance through 7 different levels. You can also earn in-game money or complete achievements to unlock various power-ups and different golf balls to help improve your skills.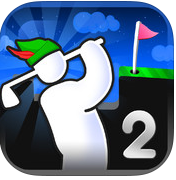 The game features 32 creative courses, like Sticky Land, where players must make shots while sticking to bubblegum covered walls. It also includes a multiplayer mode, a race mode and the ability to improve your golfer and buy him/her funny hats with special abilities.