Submitted by Sammy Snyder on
In celebration of NASCAR 2014 ETX Racing has released NASCAR Manager for iOS, Android and Amazon devices. The free-to-play racing game is an officially licensed NASCAR title that challenges fans to maintain their vehicle, team and tactics on the road to the Sprint Cup Championship.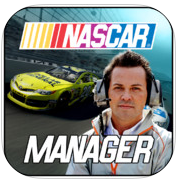 NASCAR Manager is a strategy game that allows players to unlock sponsorships from real life manufacturers such as Chevrolet, Toyota and Ford, and it offers the ability to customize your own vehicle so you can get an edge on the competition. The game features two game modes (Career and Season mode) and the ability to participate in Speedweek Challenges. The game also includes HD graphics, an easy to navigate interface, and official drivers, tracks and cars.