Submitted by Sammy Snyder on
Match-three games like Candy Crush are a dime a dozen, but Puzzle Breaker for iOS features a fun twist that separates it from the rest of the clones available on the App Store. Instead of trying to earn points and beat a timer, players must match weapon tiles to defeat monsters in a turn-based battle to the death. Here's how it works: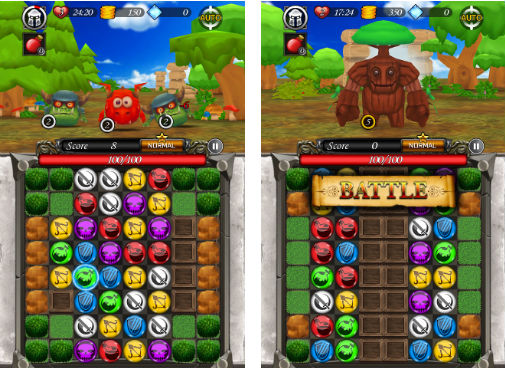 The game is played like most match-three titles. It features a board filled with differently colored tiles which players must swap horizontally or vertically to make sets of three or more of the same color. Each time a player makes a match it results in an attack on their opponent. Players can also move titles as many times as they want without making a match, however, this uses up precious turns which gives an opponent more time to counter attack. Instead of a beating a timer or a completing a certain objective, players win by reducing their opponent's health to zero. A player loses when they themselves run out of health.