Submitted by Bob Bhatnagar on
Using the built-in LED flash while recording video on iOS can help illuminate a dark scene or highlight your subject. Unfortunately, it's impossible to switch the flash on or off while recording is in progress. The Camera app hides the flash toggle option as soon as the record button is pressed. This means that the choice of whether to turn the flash on or off must be made before recording begins.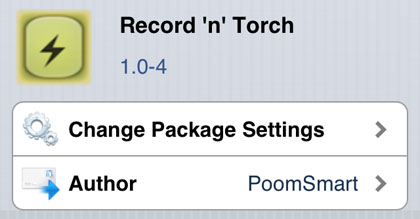 The free jailbreak tweak Record 'n' Torch seeks to improve the situation by adding a moveable flash toggle button to the video recording screen. The button can be dragged to different places on the screen, and when tapped it will turn the flash on or off while the video is being recorded. To remind you the flash is switched on, the button even turns yellow.