Submitted by Marshall Walker on
We already pointed out in December that iOS devices seem to be running more Google apps than any other apps available in the App Store. So it makes sense that five of the top six mobile apps In 2012 were made by the search engine giant. Apple's decision to replace Google Maps on iOS 6 is the only reason why Facebook managed to nab the number one spot in 2012, according to the latest comScore Mobile Metrix ranking. Other apps rounding out the chart include Pandora, iTunes, Cooliris and Yahoo! Messenger.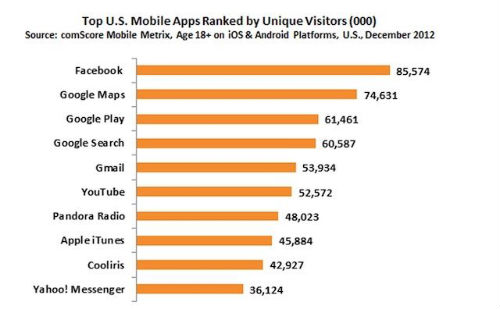 Facebook also dominated in app usage accounting for 23% of time spent on apps. Facebook's redesigned app, which was much faster and user friendly, probably helped with usage. Facebook's sister app Instagram nabbed 3% of the market, while Gmail was the most used Google app. Various Google apps also accounted for 10% of app usage, making Facebook and Google products the most used on mobile devices in 2012.