Submitted by Marshall Walker on
Apple released iOS 5.1.1 a few days after iOS developer pod2g announced that his jailbroken iPhone 4 running iOS 5.1 was untethered. Of course you will want to avoid the update if your device is currently jailbroken. For non-jailbreakers the update brings improved reliability for the HDR option when accessing the camera app, and a few bug fixes. Here is a complete list of changes: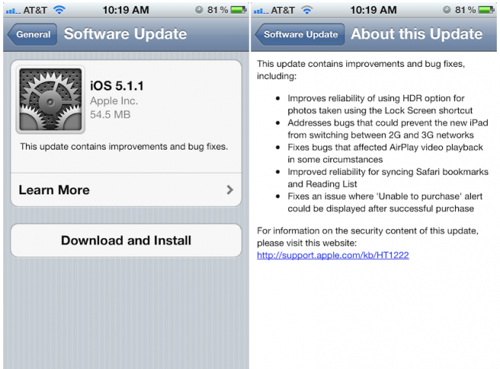 Improves reliability of using HDR option for photos taken using the Lock Screen shortcut.
Addresses bugs that could prevent the new iPad from switching between 2G and 3G networks.
Fixes bugs that affected AirPlay video playback in some circumstances.
Improved reliability for syncing Safari bookmarks and Reading List.
Fixes an issue where 'Unable to purchase' alert could be displayed after successful purchase.