Submitted by Marshall Walker on
T-Mobile Chief Marketing Officer Cole Brodman confirmed that they would not be getting the iPhone 5 "this year." However, his statement could mean a lot of things.
According to one sales associate, Sprint will be offering the iPhone 4 to their subscribers in 2011, not the iPhone 5. This could be a mistake on the employee's part, or maybe both Sprint and T-Mobile customers will have to wait longer for the next generation device.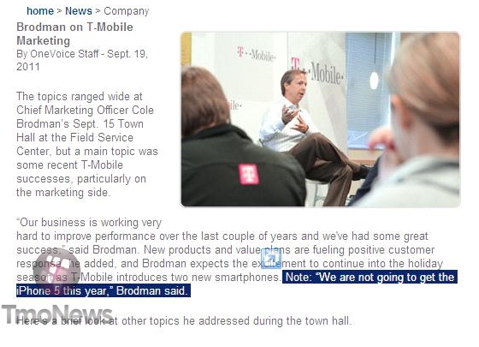 J.P. Morgan analyst Mark Moskowitz thinks Apple is going to have a great year by offering the "iPhone 4-plus", a low-end replacement for the iPhone 3GS, on more carriers. Apple doesn't seem to be in a hurry to launch the iPhone 5, and could have decided to expand its customer base by only offering the revamped iPhone 4 to T-Mobile and Sprint. This could also be due to the iPhone 5 production delays mentioned by 9to5Mac a few days ago. If Apple is expecting iPhone 5 shortages in 2011, they could be limiting the amount going to new carriers until production picks up in 2012. According to 9to5's report, the iPhone 4-plus is flying off the production line, and Apple should have plenty available for the upcoming holiday season, but the iPhone 5 might be limited in numbers.