Submitted by Bob Bhatnagar on
It may only be the first step, but iPhone developer MuscleNerd has successfully jailbroken the iPhone 4S. According to his post on Twitter, there are "huge missing pieces" with much work to be done before a public release can be contemplated. Still, we can see in the screenshots below that MuscleNerd has jailbroken an iPhone 4S running iOS 5. On the left is console root access on the device.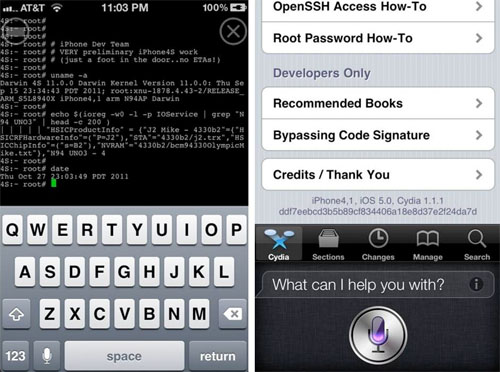 The right screenshot shows Cydia and Siri running on the iPhone 4S with iOS 5. For those waiting for a jailbreak solution for the iPhone 4S, this is encouraging news and it's only a matter of time until the iPhone Dev-Team or someone else gets everything together for a major iPhone 4S jailbreak release.